The skin is our largest organ and our first line of defence against adverse pathogens, toxic substances, the cold, wind and UV rays. Coconut oil can offer protection in many ways. With no adverse effects and only benefits for skin, body and mind. You are what you eat, after all, and that is certainly the case for the skin.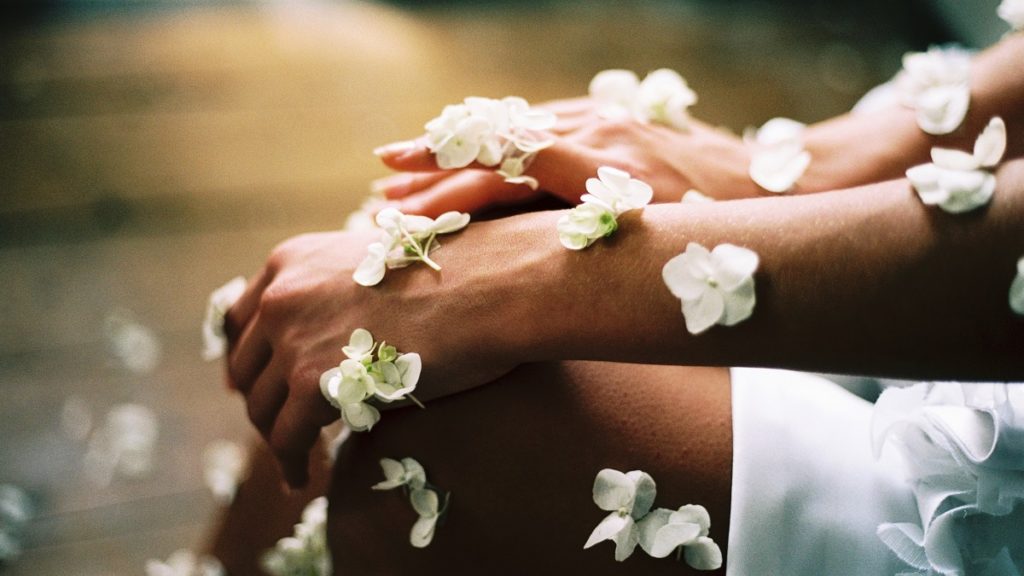 18 fantastic and surprising benefits of coconut oil for your skin:
1. Coconut oil protects the skin against harmful bacteria
Hand sanitisers are toxic. They contain up to 8 toxic substances for your skin (body and brain). Using coconut oil and letting it absorb is just as effective, and so much healthier.
2. Coconut oil hydrates the skin
Dry skin is unhealthy skin. Frequent hand washing dries out the hands as the skin's oil is washed away. Extra virgin coconut oil restores the hydration balance, your healthy skin microbiomes and pH levels. Besides coconut oil, omega-6 is another vital ingredient for nourished skin. Dry elbows and flaky scalp indicate a lack of omega-6.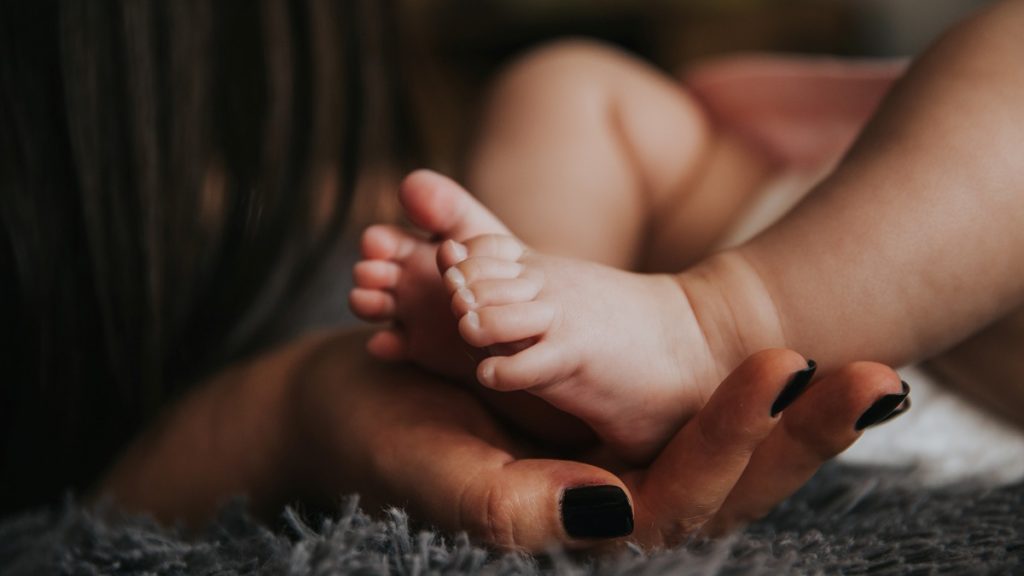 3. Coconut oil is by far the best baby lotion
You want to pamper and protect your baby's soft skin with a lotion that is free of chemicals and fake fragrances. Your go-to is an organic protector. Cold-pressed organic coconut oil is by far the best solution, with no known allergic reactions. It is 100% natural and pesticide-free. Coconut oil hydrates and protects the skin thanks to its antiseptic properties, making it 100% better than all baby care brands available in pharmacies.
4. Coconut oil prevents and treats stretch marks (e.g. pregnancy stretch marks)
Unhealthy skin that stretches quickly can show streaks. The skin will tear invisibly if there is too much strain. Apart from pregnancy, this can also occur in the breasts and thighs, in bodybuilders and in people taking corticosteroids. Applying as well as ingesting organic coconut oil regularly will help prevent stretch marks and make them disappear. Omega-6, vitamin E (e.g. red palm oil and wheat germ oil) and vitamin C do wonders and give the weakened skin what it needs. Plenty of essential proteins (e.g. seitan) ensure sufficient collagen production. Stretch marks do not stand a chance then.
5. Coconut oil reduces age spots
Age spots, also known as sunspots or liver spots, are caused by oxidation of the skin's oils or by the malfunctioning of the liver. Sufficient vitamin E and carotenoids prevent age spots and help fade age spots. Eating red palm oil and rubbing it in a little does wonders. Give this duo 1 to 3 years to prevent or turn the tide. Liver spots are caused by a weakened liver. Coconut oil can be a real help in that case. Your liver is not needed for the digestion of coconut oil. So, your liver is spared and your skin is nourished and protected. 100% natural.
6. Coconut oil is anti-ageing
Many women in countries where the coconut (trees) is bountiful have flawless skin. 'Eternal beauty', owed in part to coconut. Coconut stimulates the production of collagen. A healthy skin nourished with coconut oil and other healthy nutrition will make sure there is little chance of wrinkles, fine lines and age spots.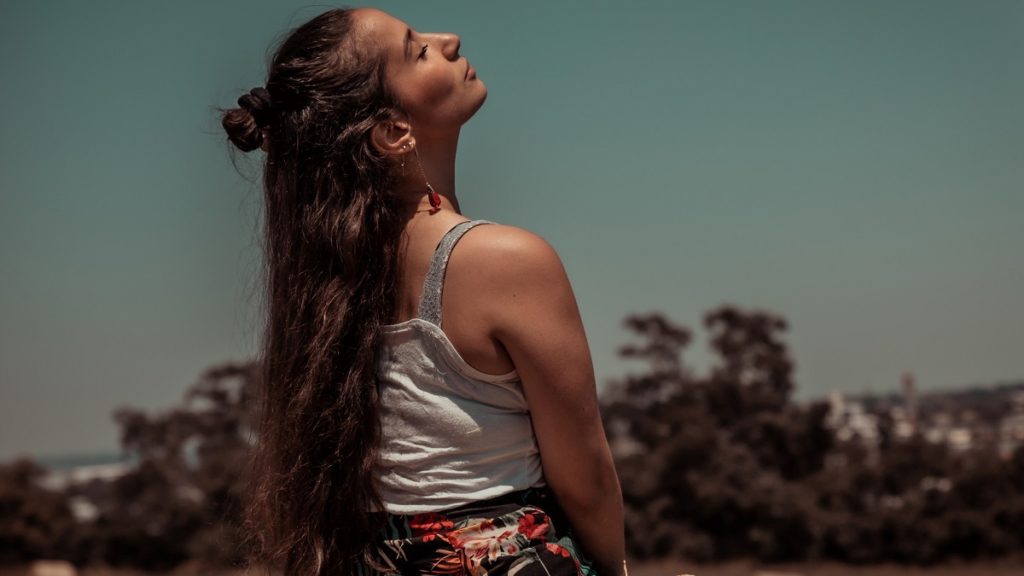 7. Coconut oil soothes sunburn
The sun does wonders for your health and good mood. There is no healthy life without sunshine. Let there be no doubt about that. However, there is nothing healthy about a sunburn. Coconut oil can soothe the skin, relieve pain, keep the skin hydrated and has anti-inflammatory properties. 100% natural. Without chemical rubbish.
8. Coconut oil gives acne little chance
Acne is inflammation caused by bacteria of the sebaceous glands and appears as red spots or red bumps. Girls suffer from it most just before their periods. Rubbing the skin daily with extra virgin coconut oil usually remedies everything. Healthy nutrition is necessary; otherwise, it is all a waste of time. A study published in the Journal of Dermatological Science in 2013 concluded that lauric acid and the other MCT fatty acids in coconut oil have a strong antiseptic effect and give acne little or no chance. You can enrich the coconut oil with oregano, rosemary or clove oil. Grapefruit extract rich in salicylic acid is your ally.
9. Coconut oil is your go-to with eczema and psoriasis
Psoriasis is often difficult to manage. Both eczema and psoriasis are related to good digestion, healthy nutrition, and nerves. Products full of chemicals do not resolve much and, ultimately, harm your health. Coconut oil soothes eczema and psoriasis. That is thanks to the anti-inflammatory and antiseptic properties of the fatty acids in coconut oil. Use both internally and externally, every day and, preferably, twice a day.
10. Coconut oil may be the best moisturiser
A moisturising cream is usually full of tap water. Like many women who regularly come into contact with water know, water dries out the skin. The majority of hand creams give a false, short-lived 'nice feeling' but actually dry out the skin. The skin is truly moisturised when you apply extra virgin coconut oil and let it absorb for a bit. It also does wonders for your face to rub coconut oil onto it every day and let it absorb into the skin. Coconut oil is anti-ageing, 100% natural and stimulates collagen production.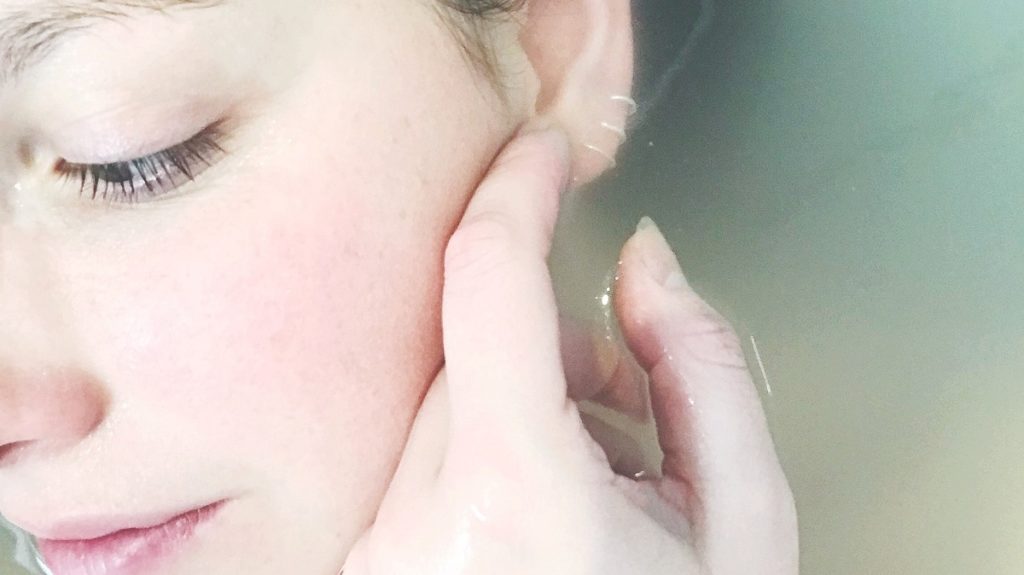 11. Coconut oil for a great facial mask
The skin can use a facial mask every week. Made of coconut oil, clay, and… apple cider vinegar, honey, coffee powder, cocoa powder and a little lime juice. All organic, of course. Only go for the apple cider vinegar that has the 'mother' and is organic, cloudy, unfiltered and not pasteurised. Enjoy beauty.
12. Coconut oil to exfoliate, for all skin types
Exfoliating is a gentle way of removing dead skin cells to give new skin cells the chance to transform your skin into one with a bright, fresh glow. The key to success: balance. Exfoliating frees your pores without damaging the skin barrier. The older you get, the harder this gets. The dead skin cells that remain can make your face look dull and cause pimples. Get rid of it!
Is exfoliation the same as a scrub?
No. Exfoliation is a lot milder for the skin and can be done in several ways. Mix organic coconut oil with a little (coconut blossom) sugar or with fine salt ( e.g. Khoisan fleur de sel) and gently exfoliate your face and body. The amount of water determines how the salt or sugar dissolves and how gently it will exfoliate. Then balm the skin with coconut oil to prevent irritation and red skin. Guaranteed success. Do this once a month if you are under 40, and once a week if you are over 40.
13. Coconut oil repairs and prevents dry hands from washing
People who often wash their hands or work with water sometimes get very dry, rough or cracked hands. Applying extra virgin coconut oil before and especially after touching water protects your hands from drying out. Forget about water-based hand lotions. Lotions are sham solutions that are good for a short-lived nice feeling but actually add to the problem of dehydration.
14. Coconut oil gives your skin the care it deserves
Bad weather, sunshine, stress, illness, allergies, bad eating habits, ageing… they do not do the skin any favours. Pamper your skin daily with coconut oil. Your skin will be radiant longer. You can also add a hint of your favourite scent to coconut oil. For instance, oils such as lavender, cardamom, rose, apple blossom, jasmine …
15. Coconut oil helps wounds heal faster and nicer
Small and larger wounds heal and recover faster and nicer with coconut oil. There are many ointments out there to help, but they almost always contain chemicals (especially those from pharmacies or drugstores) that are harmful in one form or another. Extra virgin coconut oil naturally contains collagen-stimulating properties. Coconut oil is also antiseptic and anti-inflammatory. A natural miracle. If necessary, add a little red palm oil for its vitamin E and carotenes.
16. Coconut oil helps prevent and cure skin infections
A cut, burn or bite: coconut oil helps prevent or cure infections. Cold-pressed coconut oil has a strong antibacterial, antiviral and antifungal effect. Coconut oil for radiant skin. Organic coconut oil… For both the skin and for eating.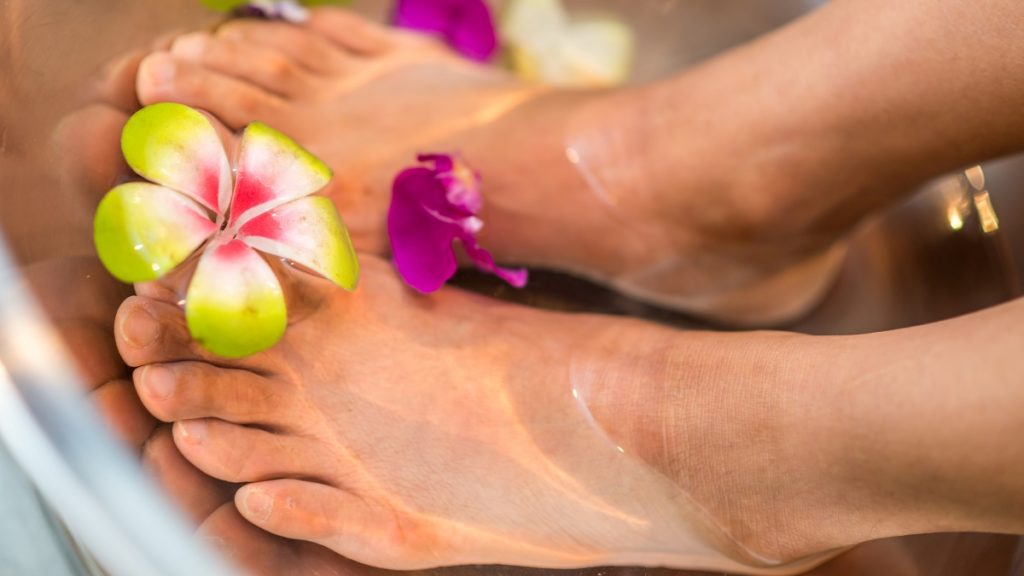 17. Coconut oil prevents and cures foot fungus
Warm days, damp days and damp shoes can lead to fungal growth between the toes. Do not allow fungus to develop; rub some coconut oil between the toes and make sure to keep your toes and feet dry. Problem solved.
18. Coconut oil soothes and moisturises dry feet
Quite a few people suffer from dry heels and ankles. Dry, cracked and painful: consuming omega-6 often prevents and cures these issues. Coconut oil soothes and moisturises. Ingesting coconut oil and rubbing it into the skin are the way to go.
With thanks to Britt Brandson 'Coconut oil for health' 2015.
How do I take coconut oil?
Bake or fry with coconut oil, put coconut oil in your smoothies and coffee. Try to ingest at least 1 tablespoon and up to a maximum of 3 tablespoons a day. For your health, preferably choose extra virgin coconut oil (also called raw or cold-pressed coconut oil) over deodorised coconut oil. Preferably buy organic extra virgin coconut oil. Your skin will thank you.