Recipes with red palm oil
Carrots are healthy because they contain natural carotenes. Red palm, the healthy fat. Like carrots red palm contains natural carotenes. In fact red palm contains up to 10 times more carotenes than carrots. Tomatoes contain lycopene carotenes;
Red palm contains 30 times more carotenes than tomatoes. Carotenes are natural antioxidants, needed for healthy strong eyes. They also combat ageing and western world diseases.
Red palm also contains a lot of vitamin, which is good news for your skin and your heart.
Red palm, the healthy fat is even the best source of tocotrienols. This is vitamin E, which is stored among others in our skin to protect us from the sun. Now you know why red palm is the frying oil, which gives food a delicious taste and a healthy nutritional value to everything you cook. So start using red palm today for some colour in your food. For an authentic African or Latin American accent in your kitchen. On your sandwiches, for baking, stir frying and deep-frying.
Choose Red Palm which contains 0% transfats, packaged in glass.
Red tomato soup with tofu and red palm oil
2 tablespoons of red palm oil, 1 chopped red onion
6 large tomatoes, peel removed and chopped
or 1 can of peeled organic tomatoes
2 garlic cloves, 100 g of silk tofu
2 tablespoons of parsley or coriander (cilantro),
fi nely chopped, 2 cups of vegetable stock
pinch of cayenne pepper with unrefined salt
Put two tablespoons of red palm oil in a pot and fry the onion and garlic. Add the tomato. Sauté the tomatoes for 3 minutes and add the tofu. Add the water, season with herbs. Bring to a boil and then mix. Finish with parsley or coriander.
Wok-fried vegetables with hazelnuts
2 tablespoons of red palm oil
1 tablespoon of Raz-el-Hanout (herb mixture)
1 large sweet potato, peeled and diced
500 grams of Brussels sprouts,
cauliflower or fennel, …
300 ml of vegetable stock
100 g hazelnuts
Roast the hazelnuts in a dry frying pan till they are golden-brown. Use your sprouts, steam them fi rst. Heat the red palm oil in your wok, fry the herbs, add the vegetables and stir-fry. Add the vegetable stock and let the vegetables sit a while longer. Turn over a few times until they are done. Sprinkle hazelnuts and turn over. Delicious with rice, quinoa and pasta.
Red mayonnaise with a macaroni salad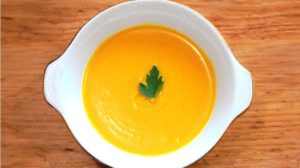 mayonnaise:
1 egg yolk,
a pinch of cayenne pepper,
1 coffee spoon of mustard,
1 coffee spoon of wine vinegar,
125 ml of runny palm oil (gently heated),
1 soup spoon of ketchup
salad:
250 g of cooked macaroni,
1 large onion sliced,
1 green apple,
finely sliced,
100 g of grated carrots,
50 g of chopped walnuts,
1/2 cucumber,
julienned,
a little bit of salad for the mixture
For the mayonnaise: Put everything in the blender, except the oil. Mix and then gently add the oil until it emulsifies. Mix the salad ingredients, add the mayonnaise and serve on a bed of lettuce